11 Takeaways from #HYPERGROWTH18 -- Boston
Full disclosure: I'm actively riding the peak of my own Drift hype cycle. After roughly 56 hours in Boston I have dranken so much of that Drift-Kool-Aid that I am fersure not thinking (or spelling) clearly...see what I did there...
Anyway, for all the poor souls who were not fortunate enough to be at #HYPERGROWTH18 I've compiled my sketch notes into a listicle for easy consumption, digestion, and sharing.
I did my bit, and let me tell you...it was a sweaty bit, now dear reader:
read on, absorb these knowledge bombs, and then spread them!
and there may or may not be an easter egg for those that read all 11....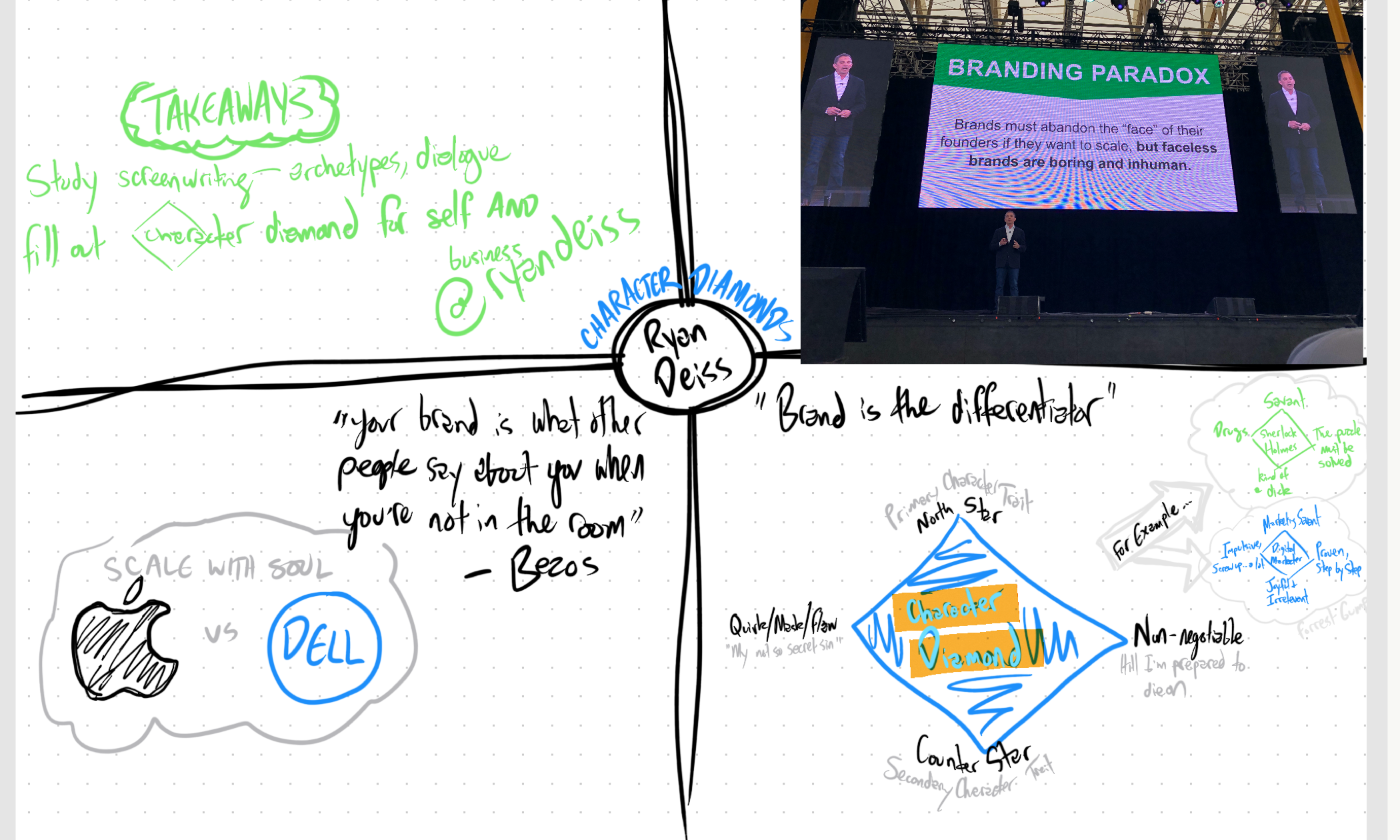 #2 - Markets are noisy,
brands need to signal clearly/often,
and a CHARACTER DIAMOND helps do that.
Ryan Deiss — you spoke right to my branding heart, especially as we position Revel amidst a growing field of commodity 'health engagement' orgs 🔷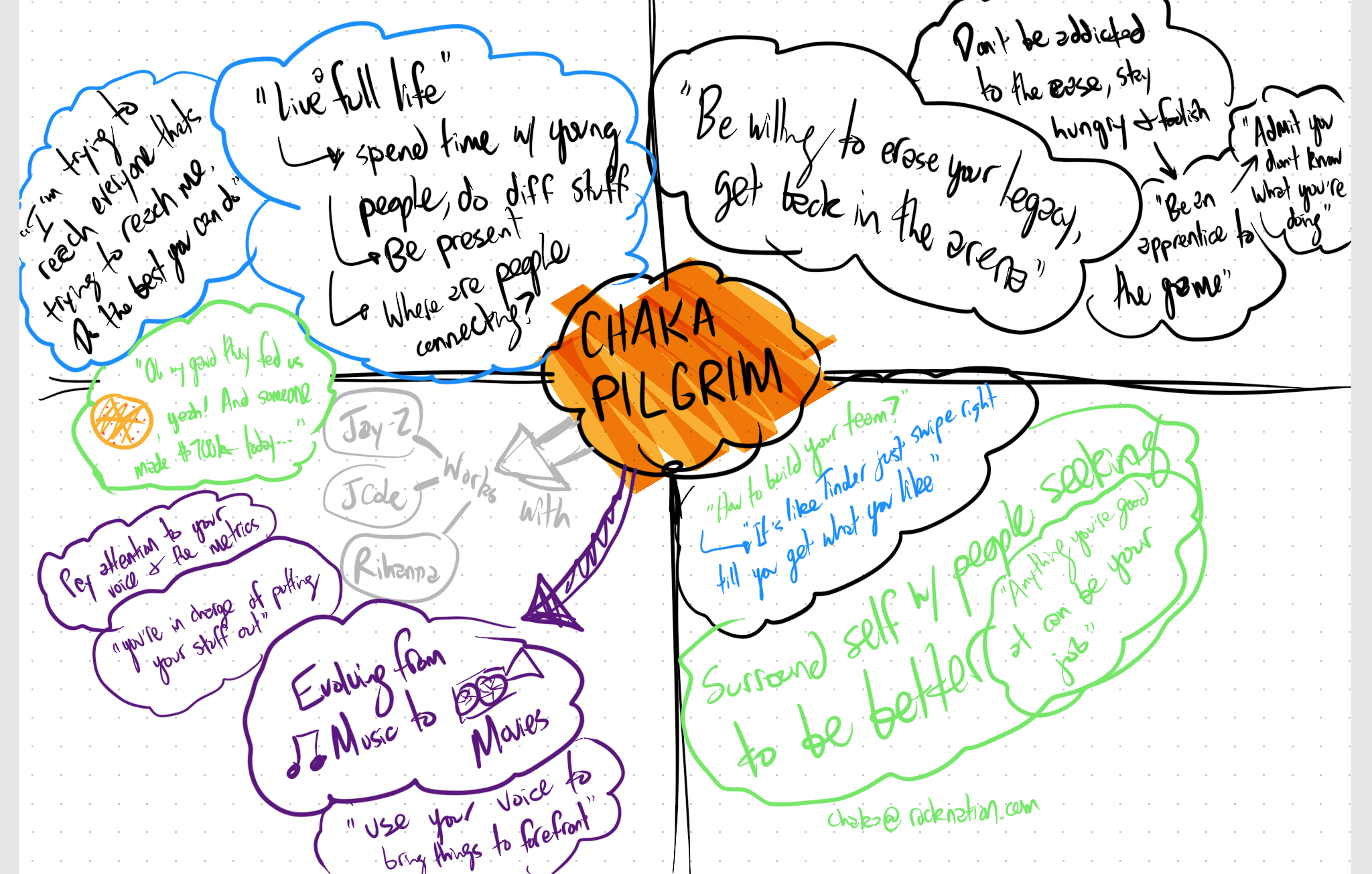 #3 - "Be an apprentice to the game"
And then just consume anything that Chaka Pilgrim works on.
She talks about working alongside JAY Z, Kanye, Rihanna, and many more, like its no big deal... mad respect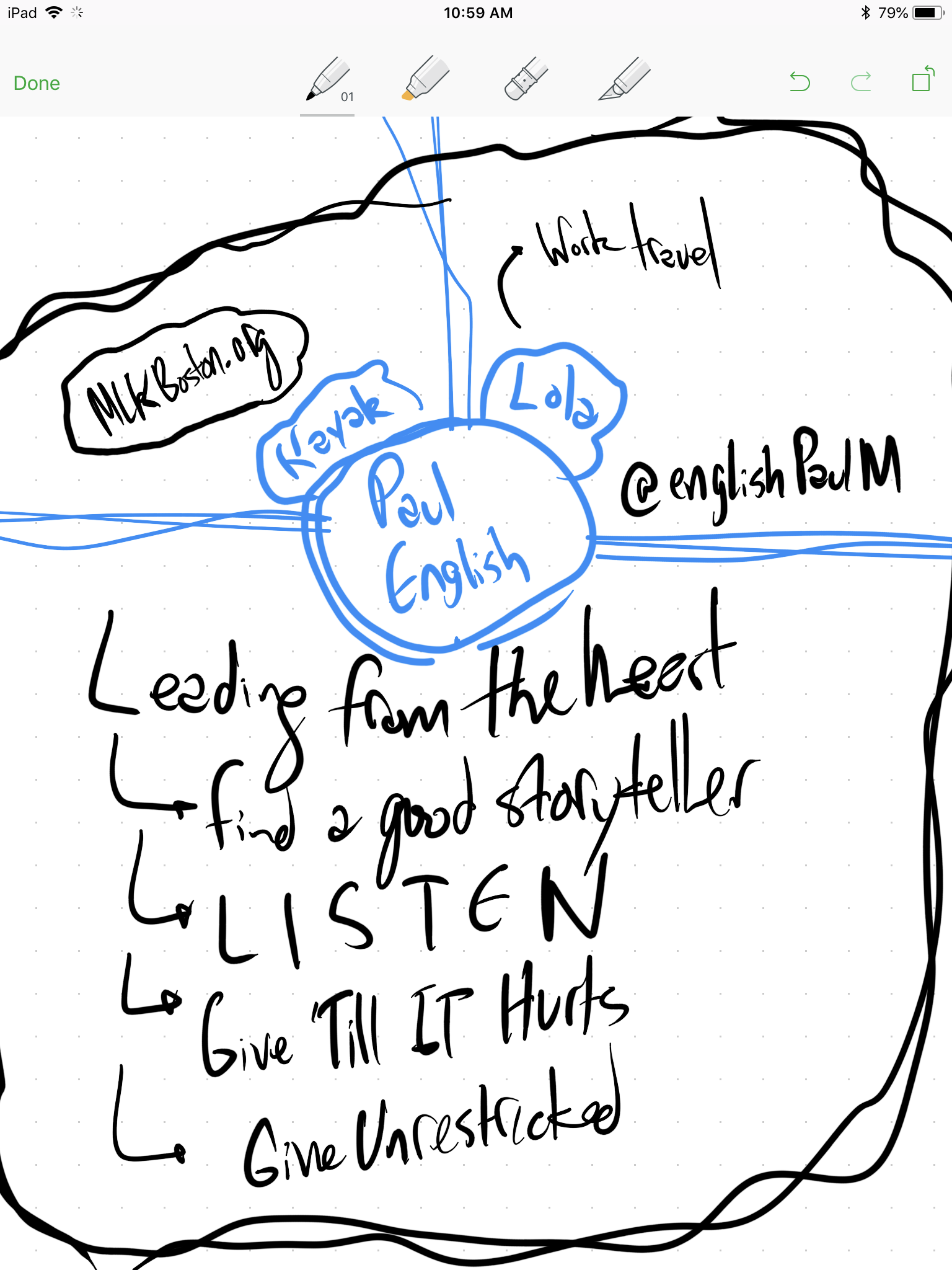 #4 - Paul English is a force of nature.
From cofounding KAYAK and Lola.com, to founding GetHuman.com, Paul is an incredible example of what entrepreneurs can do in the age of the platform 🤝
Also his teams hire well - shout out to Lauren Takakjian
#5 - The internet gets conned ALL THE TIME by carnies that 'scale via outrage'.
AND I'll own it, I got a lot of value out of Grant Cardone's talk at #HYPERGROWTH18. I was sketching like mad. Partially cause he is truly a 'shock and awe' entertainer to listen to live.
AND to the self-righteous Twitter-Activists that were "very offended" by Grant
(a) if you don't want him to win, then stop playing his game
(b) read Ryan Holiday's "Trust Me I'm Lying"
(d) please stop circle-congratulating your woke-ness in public
#6 - "Don't shame survivors.
Just don't do it."
Aly Raisman did an impressive job connecting her efforts and lessons from being a kick-ass gymnast and #meToo survivor/leader with the worlds of marketing/sales.
She also highlighted therapy, meditation, and journaling as key methods in her healing and growth process, an insight that many entrepreneurs also experience massive ROI from.
Aly is a champion and I'm very grateful to have heard her speak at #HYPERGROWTH18!
#7 - "Building and scaling is really fucking hard."
Technically this was #1 for Molly, but I'm highlighting it at seven. deal.
She definitely wins the "Funniest and Most Likely To Be Fun to Hang Out With" award. And more importantly Molly has played in the big leagues with a variety of orgs and thus offers great perspective on how to thrive/survive during hypergrowth.
#8 - Chase happy accidents
#9 - YouTube creators are strongly correlated with attention starved children
Words don't do this man justice. Straight legend-ary hustler.
He showed these three classics from his portfolio of work:
* Bike Lanes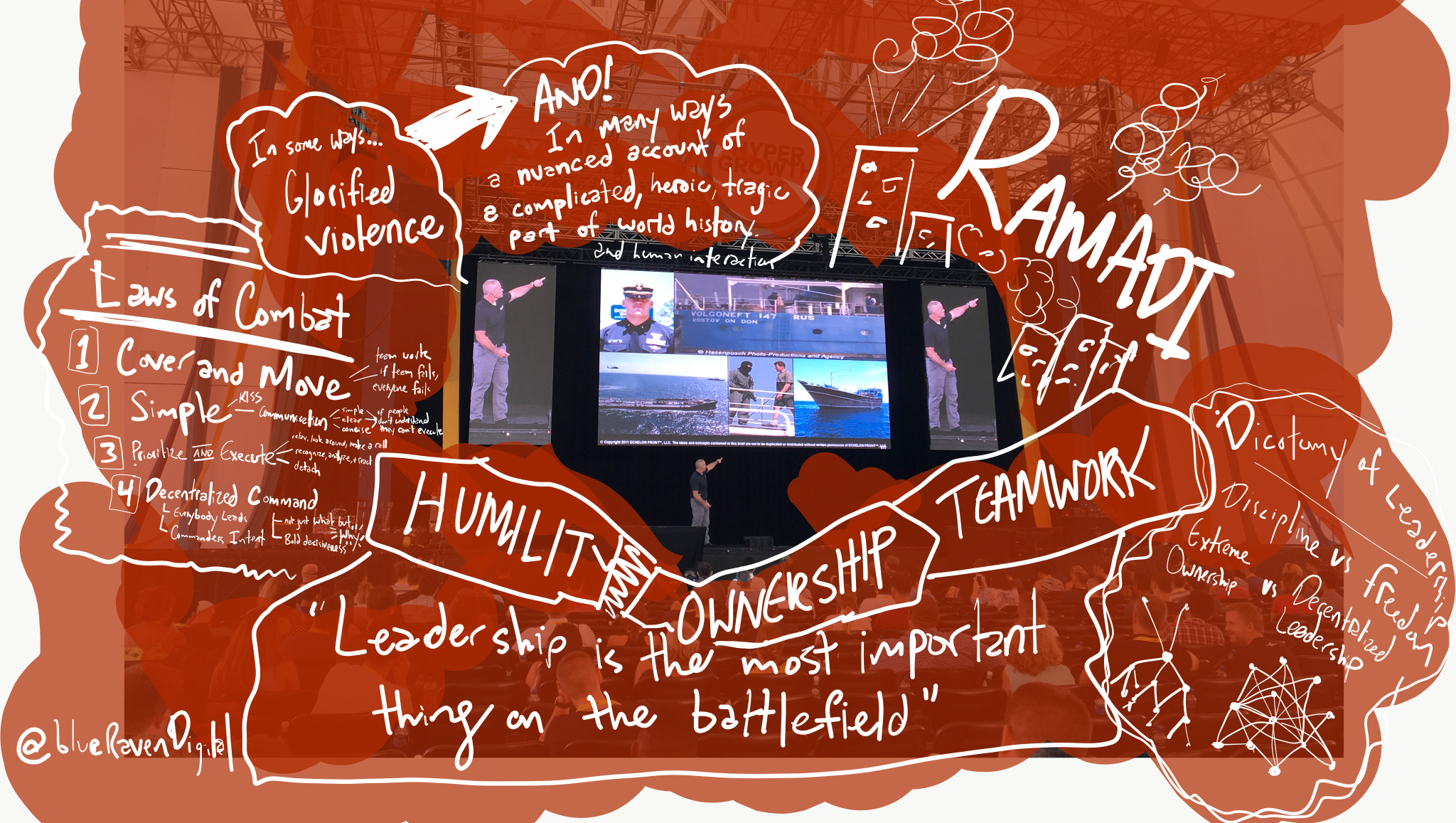 #10 - Leadership, and its dichotomies, are the most important things on the battlefield
I almost tuned out Jocko cause he came in like a bro and glorified war for a bit, but then he really turned it on and related how the battlefield can be a tough-love teacher for entrepreneurs.
Also those Laws of Combat 👈, simple not easy💥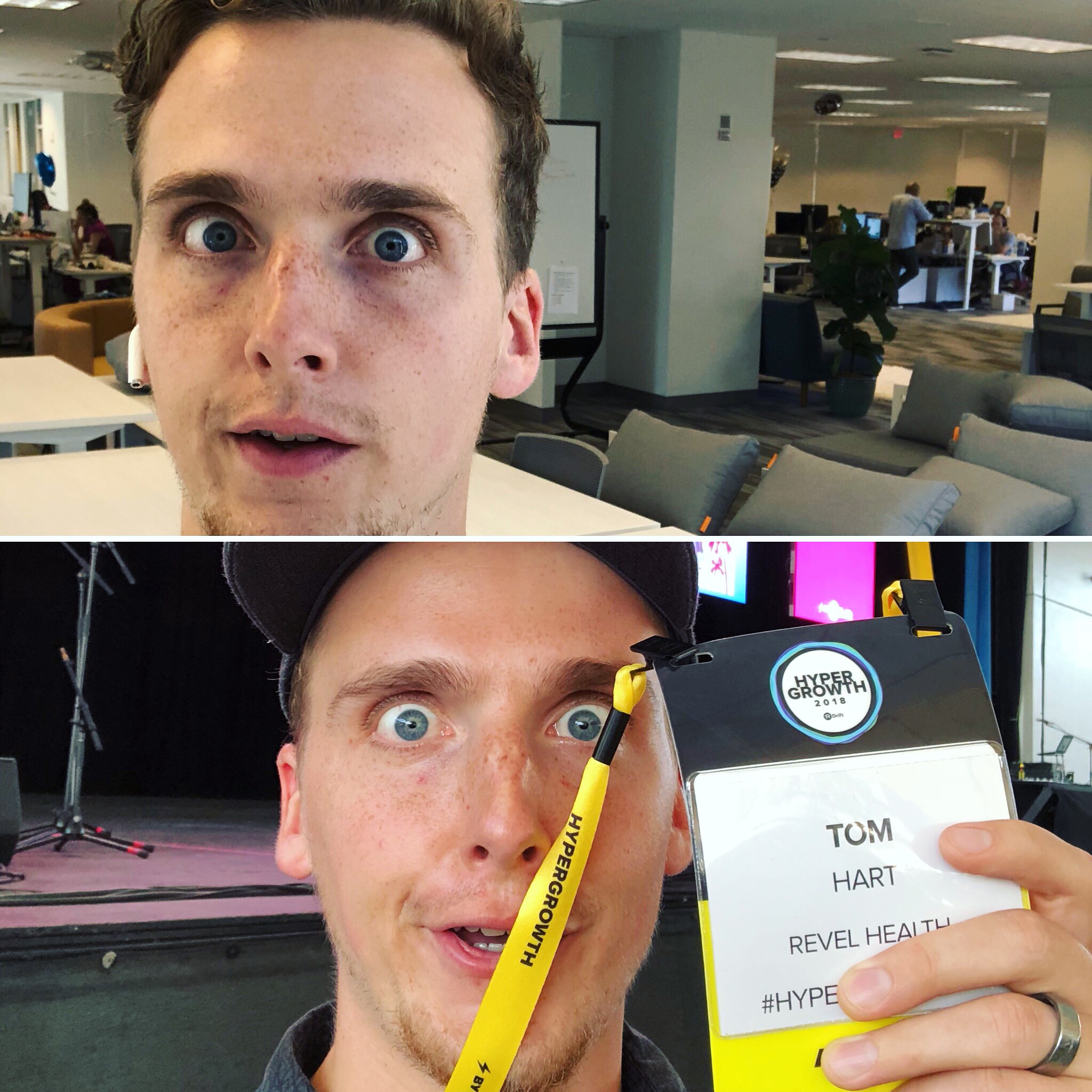 #11 - Document the hustle, and the network will feedback.
The amount of high-power love on my LinkedIn recap from #HYPERGROWTH18 was phenomenal.
All I did was take #sketchNotes (which I compulsively do anyway) and make a recap video (also compulsive and fun).
Thank you Drift team for bringing me out for #HYPERGROWTH18 and I look forward to being exponential together 🚀
#HYPERGROWTH18, in Mr. Stinson's immortal words, was:
As promised dear reader, here is your easter egg for reading to the bottom, all of my digital assets from #HYPERGROWTH18.
Free and easy to share, do please link back where possible 🙌Cheers to growing hyper-ly... 🤓
Do you like what I do?
Hit me up, I'm part of a decentralized network of creatives, we do crazy shit.